British Columbia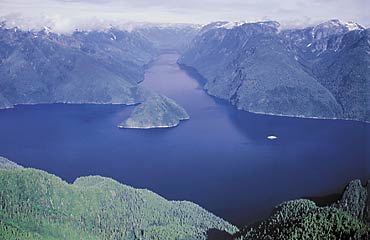 The day long small freighter through Barkley Sound from Port Alberni (North of Victoria) to Bamfield and return is great fun. This ship is the main supplier of necessities for the entire sound. It will drop of a bottle of milk to one house, a newspaper to another, and your canoe or kayak to the National Park of islands at the end of the sound, pick up others from there, take aboard a fisherman's catch, or most anything needed by the local population. The ship is the MV Lady Rose, operated by Lady Rose Charter Marine Services, Port Alberni Bamfield Ucluelet BC Canada. Note: There is a similar looking journey in a sound north of this one that is definitely not recommended. It is boring, due to lack of population, and ugly, due to clear cutting.

Traveling to the local islands between Vancouver and Vancouver Island on the Canadian ferries can be great fun. We really enjoyed sitting on the Point on Galiano Island overlooking the ferry route and watching all the boats go by. It's quite a beautiful area.

The British Columbia has both HI Hostels and private hostels.
State of Washington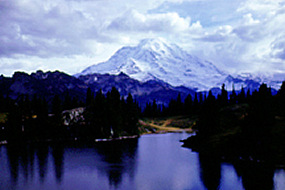 Park your car in Anacortes (north of Seattle). Look carefully at the Washington State Ferry System schedule. You can take a ferry to Lopez Island, then transfer to the local island ferry. Plan it so you make as many stops as possible. Get off at Friday Harbor, on San Juan Island. Tour the wonderful shops. Return as you can. (Some ferries are direct, some require transfer.) The whole thing cost is something like $4.25 each, I think, for a whole dayís entertainment.

It is well worth the high price to have dinner in the The Space Needle. Time it so that the Sun sets halfway through the meal. This would require very advanced reservations. Very romantic, so plan your after dinner time accordingly.

The whole Mt. Rainier area is wonderful. Look at Mount Rainier National Park Home Page. We loved a funky old hotel (bath down the hall) with a porch around it in the middle of Packwood, south of the Park. Cheap. Canít remember the name, but it's the only one of that description in this small town.

Mt. St. Helens is an amazing place. Visit it via the good, paved Forest Service roads to the East of the mountain. Plan to go the visitor area (South of Spirit Lake, I think, but I'm not sure) and listen to their ranger talk. There is a spectacular film of the eruption shown in a town West of the mountain. (Best guess is Kelso, but maybe Castle Rock, Longview, or Woodland.) You will see ads for it, or ask at any visitor center. (The rangers recommended it to us.) Highway 504 from the West is definitely not worth the time.
Oregon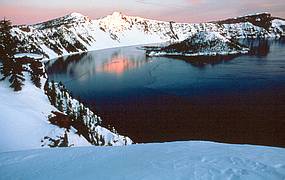 Do not stay or buy gas in Portland, Oregon. Instead, do these things across the river in Vancouver, Washington, where they are much less expensive. Portland has horrible tourist taxes.

Highway 101 along the Oregon coast is quite beautiful. Most people who tour Oregon for the first time use that route to get between Washington and California. However, I got tired of it, so I tried traveling through the Cascade range, instead. I love it! I have taken Forest Service dirt roads from Oakridge to Crater Lake. Mostly logged, with isolated nice spots to visit and camp. There are great hot springs at Cougar Res, west side. Take the unmarked trail just north of the bridge that crosses a bay with a waterfall flowing into it, nearer the south end of the lake than the north end. After that, stay on that road (Forest Service Hwy 19, I think - it's mostly paved, with the rest good quality dirt, suitable for any passenger car) to Oakridge. It is a very beautiful drive, with lots of great camp sites on the north half, starting after you leave the lake.

The most scenic route from Crater Lake to Ashland is via Hwy 62 east and south to Ft. Klamath, then the road that goes west from Ft Klamath, then turns south towards Hwy 140. Then west on 140 for 7 miles, then just before Lake of the Woods, go south. The left fork towards Buck Mountain and Keno has nice camping on Spencer Creek, closer to Keno that Lake of the Woods. The right fork is a nice drive to Ashland.

Ashland is famous for its Oregon Shakespeare Festival and other plays. Pleasant town. It has a hostel.