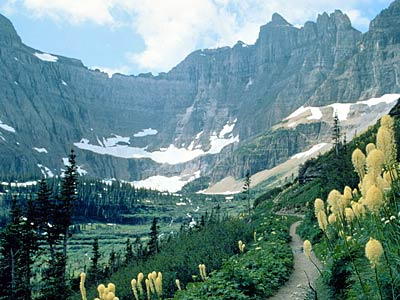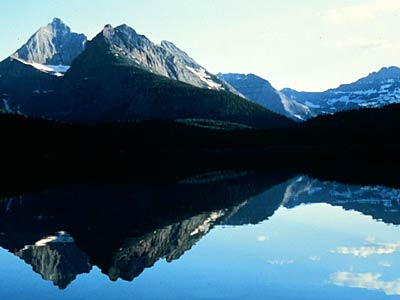 We flew to Spokane, Washington, rented a car, and drove a beautiful loop route to Glacier National Park, and returned through lovely Priest Lake, Idaho. These 7 days did not make me an expert on the area, but I will tell you what I know.



Photo by Carol Roberts of Kellog

We headed East on I 90. About the time we started looking for cheap lodging for the night, we found ourselves in the historic old mining town of Kellogg, Idaho. Don't miss this town! Drive or walk slowly through the downtown area and discover some most amazing and entertaining sculptures made of old junk metal found in abandoned mines and other places. And the place has an interesting history.

Yes, we did find an inexpensive, comfortable motel, Trail Motel. Look for its billboard on the freeway before town. And we found a decent restuarant called the Silver Spoon on the same street, but on the opposite side, west of the Trail Motel. It is in the same complex as that of a more expensive motel. I haven't been charged only $.60 for a cup of coffee in years!

Kellogg to Glacier National Park

From St. Regis on I 90 in Montana, we headed East and North on SR 135. Gasoline prices are cheaper in Montana than in Idaho.

Although the AAA map marked SR 28 as scenic, we used SR 382 North through the Flathead Indian Reservation and did not regret it. This is grand, beautiful country with almost no people. US 93 around Flathead Lake and north to Kalispell is busy, more developed, and not particularly scenic in my opinion. And Kalispell is not a place I would want to spend any time. You can save yourself some time and hassle by turing East on US 2 in Kalispell and then keep going straight off of 2 until you can turn North on SR 206. Then take US 2 again East to the Glacier National Park entrance.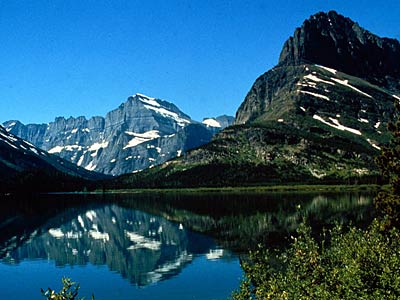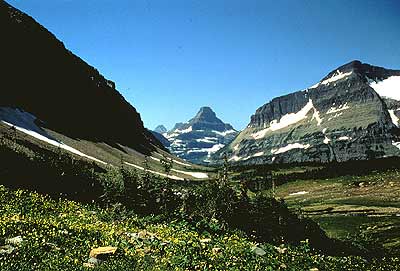 Glacier National Park is perhaps the most spectacular mountain National Park in the lower 48. (Yes, I have seen all of them.) It is the closest thing we have to the Swiss Alps, yet it is quite different from them. Huge, magnificent mountains surrounding big, beautiful glaciated canyons. The Going to the Sun Road is the only road that goes completely through the park. It is both a very spectacular route (when you are on it), and a very ugly scar on a otherwise grand valley (when you look at it).

Lodging. I have visited this park years before, and knew that I preferred the East side of it. So we reserved a cabin at Rising Sun Motor Inn near St. Mary Lake. I say "near", because we couldn't see the lake from our cabin. Staying at this Inn was a most disappointing experience. The "cabin" was really a duplex with a very thin wall, with no porch, no view, and no ambiance. It was impossible to close our door or that of our neighbor without slamming it. Most annoying to everyone. The restaurant "dinner" menu main courses consisted of Tortilla Wraps, Hamburgers, Taco Baskets, and a Chicken dinner. We opted for a pizza in the town of Saint Mary, a few miles East, followed by an ice cream bar purchase at the Grocery store there.

For about the same price, you can stay at the splendid Many Glacier Hotel, north and East of St. Mary. This wonderful old hotel, built in 1914 and 1915, is in one of the most beautiful places in the park. It has the look and feel of a Swiss Lodge situated on tiny Swifcurrent Lake across which are panoramic views of towering mountains, including spectacular Mount Gould, Mt. Henkel, and Grinnell Point. We saw a Moose across the lake, and on our previous visit, Grizzly Bears on one of the mountain ridges (with warning signs about them posted everywhere). The least expensive, non view room in the hotel would be far superior to any cabin or room at the Rising Sun Motor Inn, because you are there in the very scenery you came to see. A room with a "lake" view would surely be worth the extra money, but you must reserve one far in advance.

Just downstairs from the rooms is a grand old hotel sitting room with huge windows looking out at the view, and a large fireplace. The night we visited the place we had a good but pricy dinner at the hotel restaurant, and then were entertained by a trio of young Slovakians playing truly professional classical music as we enjoyed the fire and the view. These folks worked in the kitchen and probably cooked our dinner, but will most certainly soon be playing in a major orchestra in Europe.

By the way, we have been told by many employees at this hotel during both of our visits there that this place is a real blast for young people to work for during the summer. It is a very international experience (on purpose by the management). The attitude of the employees here was remarkably more cheerful than that of those working at the Rising Sun Motor Inn, so I believe the comments. Info on employment can be found here.

Short hikes and other nice places.

Strange as it may seem, our favorite place for watching the light show on the mountains caused by the setting sun was in our portable lawn chairs (which just fit in our suitcases) on the lawn outside the park visitor center at the St. Mary entrance.

We had no time or energy for extensive hiking, but we found some very nice, quite easy strolls, all highly recommended. Details can be had at the visitor center.

Beaver Pond Trail. Meadows with gorgeous displays of wildflowers greeted us on this gentle 3.6 mile loop. Also a bear. (Fortunately a timid black bear, not a Grizzly.) The trailhead is near the St.Mary visitor center, across the road and down the dirt road to the old historic ranger station. Start behind that building.
St. Mary and Virginia Falls trail. A 2.8 miles round trip fairly easy hike to see some pretty falls. Worthwhile. The trailhead is off the Going to the Sun Road a bit West of Saint Mary Lake.

Southeast Glacier Park. From Saint Mary we traveled south on US 89, SR 49, and US 2, around the East and South edges of the park. The US 89 and SR 49 parts of this route are quite spectacular, and the US 2 part is pleasant mountain forest.

Cut Bank Campground. What a beautiful setting for a campground! When I camp, I usually avoid campgrounds in favor of more private sites on National Forest land. But I would surely choose to camp here. Meadow surrounded by mountains, and no people. Do drive in to see the place, even if you are not camping. The road is about 3/4 the way south between St. Mary and SR 49.(By the way, it is legal to camp on any U.S. National Forest land not otherwise posted. It's called Dispersal Camping by the U.S. Forest Service. This is not legal on U.S. National Park land.)
Running Eagle Falls. This 5 minute level, handicap access path take you to a very weird waterfall that comes both over a cliff and out of a cave. Trailhead is on the road to Two Medicine, in the Southeast part of the park. (The lodge at the end of that road is worth a look for its full tree beams construction, but I saw no compelling need to stay there.)
The town of East Glacier Park. Find the gas station, go inside, and buy a Huckleberry Ice Cream Cone. Yum!

Thanks to the Glacier National Park for the many fine photos. To see more outstanding pictures of Glacier National Park, click here and here.

From Glacier National Park we headed towards Priest Lake, Idaho. SR 200 is both more scenic and less crowded than US 2, and is still very fast, with a usually safely maintainable speed limit of 70mph. It runs through a pretty valley under the Bitterroot Mountains.

Warning: If some maps show an intriguing route between a few miles Southwest of Marion on US 2 and Niarada on SR 28. Don't use it! We found it and used our compass to navigate it through a maze of logging roads, only to find a closed, locked gate at its southern end. So we had to return over the same ugly logged land.

Not wanting to drive too far in one day, we chose Thompson Falls, Montana, as our overnight stop. Since it has a state park, it seemed like it would be a nice choice. An internet search found Riverfront Motel. What a find! This place is a work of love. Settled in a wooded area a short walk to the river, it features very nice rooms with microwave, refrigerator, coffee maker, and personal decks with views of lovingly maintained gardens and flower pots. Bring your own dishes and utensils (we always do), though paper plates, plastic utensils, and styrofoam cups were provided. There are a few nicely situated trailer parking places with hookups in back, out of view of the motel rooms. We bought breakfast stuff at the well stocked supermarket at the East end of town, and thoroughly enjoyed breakfast on the deck. This is a very nice place to rest between Glacier Park and Priest Lake, Idaho.

Afternote: I have been unable to find the Motel's official website, which was online before our trip. The place had changed ownership the day we arrived. They have not yet responded to my emails. Please a let me know what you find out about its current status. Thanks. The motel across the bridge and on the other side of the road looked very nice from a distance. It was situated on a bluff overlooking the river, and had a restaurant with a good local reputation. It looked fairly new. I can find no mention of it on line.

Elkins Resort

, near Nordman, Idaho, is a wonderful place to spend a few days or a week. Built in 1932, it features a small lodge and 32 large cabins on or near lovely Priest Lake. Modern amenities have been added to the cabins, such as electricity, electric heat, private bathrooms and full kitchens with microwave. The cabins feature a large living area with stone fireplace (wood provided daily), and a large private deck with picnic table and chairs, usually with view or "filtered" of the lake. (The higher the price, the less filtered the view, and the larger the cabin.) Cabins right on the lake require reservation far in advance. I would avoid the low numbered, low ambiance cabins bordering the lodge parking lot. The people answering the phone seemed quite willing to give accurate descriptions of the available cabins when I called.

The lodge has an outstanding, but pricey restaurant. Be sure to share Huckleberry Crisp with a loved one. There is a nice, sandy swimming beach raked down daily. Boat rental is available at the lodge's marina.

Before arrival at Priest Lake, buy your groceries in the US 2 area. There is a fairly well stocked small store at the Conoco station (Tamarak) 9 miles south of Nordam, but it is a bit pricy. That Conoco station had the best gasoline price of our entire trip, by the way.

Millies, across from that Conoco station, looks like a bar (it is), but it also serves decent Mexican food at not too high a price.

Dispersal camp sites within Kaniksu National Forest are a bit hard to find, due to the density of the forest. Look for side roads where they cross streams. We saw a few very nice ones, all unused.

Stagger Inn Campground is a very pretty fern/evergreen forest campground with four free sites, a privy, picnic tables, and fire pits. The only water source I found was the creek running through the campground. (So purify your water, or bring your own in.) Even though I dislike campgrounds, preferring more secluded dispersal camping, I would camp here. From Nordnam go NW on SR 57. 57 ends and then becomes an excellent gravel road. The campground is 13 miles from Nordman.

Granite Falls. From the Stagger Inn Campground, take the Granite Roosevelt Trail to pretty Granite Falls, and the on to Cedar Grove, a grove of beautiful large old growth Cedars. Average age is 800 years, with the oldest having lived 2000 years. 4.5 miles, uphill and down, but worth it. You can find info and a map here. On June 25, 2004, we found Water Ouzels nesting at the base of the lower falls, flying and feeding downstream. The action was visible from the lower view path to the left of the main trailhead. If you haven't seen Water Ouzels before, be sure to look for them. These fascinating birds fly very fast and close to the water, then dive in, holding onto and walking along the bottom for several minutes, looking for bugs to eat. They have a distinctive "dipping" behaviour while standing on rocks in the stream, which is why they are also called American Dippers. This was John Muirs' favorite bird. Please let me know if the birds are still there when you visit.

I highly recommend the Entree Gallery for the arts and crafts of Northwest artixans. On the road from Nordman to Elkins Resort.